Debrisoft®: Break down the barriers to wound healing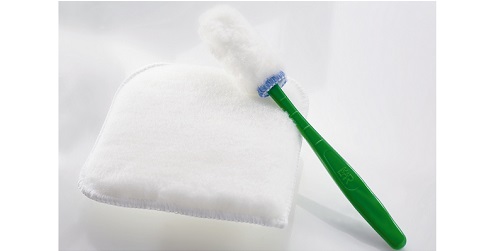 Lohmann & Rauscher (L&R) is a leading global manufacturer and supplier with over 160 years of experience in delivering high-quality, innovative wound management, operating room consumables, compression and fracture management products. Having commenced direct operations within ANZ in January 2017, the L&R team is focused on providing innovative technology to all Australians. To this aim, L&R has launched Debrisoft, a range of rapid and highly effective products for the mechanical debridement of wounds.
Wound bed preparation (debridement) is the essential first step for successful wound care. Debrisoft monofilament fibre pad and Debrisoft Lolly monofilament fibre head are patented devices for the debridement of wounds. Consisting of 18 million angled monofilament polyester fibre tips on a 10 x 10 cm polyacrylate backing, Debrisoft pad easily and quickly removes slough and debris, disrupts biofilm, reduces the number of pathogens adhering to the wound and absorbs excess exudate. Debrisoft Lolly, with its 8 million monofilament fibre tips securely sewn onto a break-resistant polypropylene handle, is specifically designed for the debridement of cavity and surgical wounds or wounds in hard-to-reach areas. Both clinicians and patients will benefit from the ease-of-use and reduction in wound treatment duration. Additionally, Debrisoft is virtually painless for patients. Debrisoft has been demonstrated to be highly cost-effective in comparison with existing methods of wound debridement.
For additional information please visit https://www.lohmann-rauscher.com/au-en/products/wound-care/debridement/debrisoft/
Comments
LEAVE YOUR COMMENT